Best Of DJ Useo Volume 3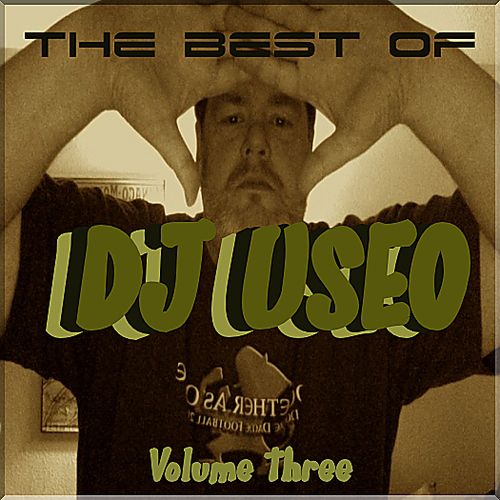 Once more I've decided to ask the Useoettes
to choose which tracks should go on my new
"best of" mashup collection.
They decided to select from the most popular
mixes I'd posted on OFFICIAL FM, and SOUNDCLOUD.
DJ Useo - The Best Of - Volume 3
2014
playlist
Disc 1-
01-Rocking Bloodlines ( Neil Young vs Dethklok )
02-Epic Lullaby ( Faith No More vs The Cure )
03-Mongoloid Voice ( Devo vs Double Click vs Nok vs Fire Starter )
04-And She Was Uncertain Smile
( Talking Heads vs The The vs Phunklarique & Dejonka )
05-What Time Is Dream On ( Depeche Mode vs The KLF vs V_Sexion )
06-Give Self Esteem Away ( Red Hot Chili Peppers vs Offspring vs Fatboy Slim )
07-Through Being Yoshimi ( Devo vs Primus vs The Flaming Lips )
08-Trip To Heaven ( Depeche Mode vs Minicut )
09-Funky U-T Heroes ( Afrika Bambaataa vs Yellow Magic Orchestra )
10-Piranha Cola ( Eagles Of Death Metal vs The Prodigy )
11-Lump In The Box ( Alice In Chains vs Presidents Of The United States )
12-Oh Darling Millions ( The Beatles vs XTC )
13-Pumping Frozen Black Hole ( Madonna vs Yello vs Joy Marquez )
14-Love Of Party People Music ( Alex Gopher vs Rodrigo Melo )
15-Lips Like Sugar In The Air ( Echo & The Bunnymen vs Rodeofunk )
Disc 2-
01-Rock No? ( Zebrahead vs Clouds )
02-20th Century Mirror People ( T.Rex vs Love And Rockets )
03-You Really Gimme Shelter ( Rolling Stones vs Mott The Hoople )
04-Universal Entity Gone Man
( Eels vs The Higher Intelligence Agency vs Noel Fieldings Luxury Comedy )
05-Unbelievable Timebomb ( EMF vs Beck vs Lola Bunny )
06-Smack My Animals Up ( Nickelback vs The Prodigy )
07-Slippy Widow ( Tori Amos vs Underworld vs Armand Van Helden )
08-No One Exosted ( John Foxx vs Acid Prophecy )
09-The Black Hit Of Panic Station ( Muse vs Human League )
10-The Last Dance Of Mr. Brightside ( The Killers vs The Raveonettes )
11-I Dont Remember Burning Down The House ( Talking Heads vs Peter Gabriel )
12-Bird Numbers Song ( Lene Lovich vs Kraftwerk ) (2011 Remix)
13-Inglorious Under The Westway ( Blur vs Viper X )
14-Lifes A Gas Wid Nit Wit ( Bang Bang Machine vs The Sabres Of Paradise )
15-I Might Slap My Pitch Up ( Wilco vs Sander Van Doorn )
Large ' 2-disc ' 275.64 MB zip file with covers
can be accessed from tmirror links here-
http://groovytimewithdjuseo.blogspot.com/2014/03/best-of-dj-useo-volume-3.html
Listen to preview track
"Piranha Cola"
(Eagles Of Death Metal vs The Prodigy)
here-
Preview video mashup
"Lifes A Gas Wid Nit Wit"
( Bang Bang Machine vs The Sabres Of Paradise )
here-