AudioBoots First Post-A-Thon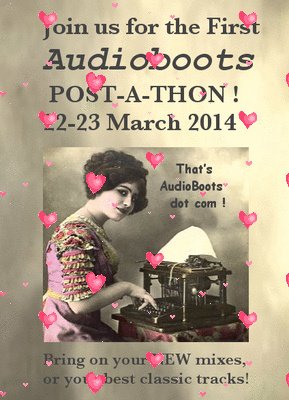 We, the producers of
the excellent new
mashup forum
AUDIOBOOTS
are sponsoring our first
POST-A-THON
this coming weekend,
March 22-13 2014.
We encourage you to join up,
then post your killer new mixes,
( Mashups, Long Mixes, and Podcasts )
and then savor the comments.
If you like,
feel free to re-post your
past classics anew!
They're certainly new to
AUDIOBOOTS!
There'll be free non-existent
coffee and donuts
for as long as they last.
Bring your friends!
Tagged: