DJ Nerd42 - Tell Your Story Over Again (Mike Shinoda vs Hamilton)
Sources used:
Mike Shinoda - Over Again (Vocals)
Hamilton - Who Lives, Who Dies, Who Tells Your Story (Instrumental)
This is the second of three tracks in DJ Nerd42's Post Traumatic Hamilton EP.
Feb 17, 2015: Lin-Manuel Miranda's "Hamilton: An American Musical" debuts on Broadway, delighting music lovers worldwide with its brilliant combination of hip hop, history and showtunes.
July 20, 2017: Chester Bennington of Linkin Park commits suicide, grieving fans worldwide who will forever miss his incredible vocal talent.
Jan 25, 2018: Mike Shinoda of Linkin Park releases his "Post Traumatic" EP, putting his feelings of loss over the death of his friend into the language of hip hop.
June 1, 2018: DJ Nerd42 combines the themes of regret and loss from both of these sources into a new free musical mashup creation, the "Post Traumatic Hamilton EP."
Download mp3:
https://www.dropbox.com/s/42pe9gpw1djehtg/02 DJ Nerd42 - Tell Your Story Over Again (Mike Shinoda vs Hamilton).mp3?dl=0
Download FLAC:
https://www.dropbox.com/s/iyf4n1vccbfgrzr/02 DJ Nerd42 - Tell Your Story Over Again (Mike Shinoda vs Hamilton).flac?dl=0
[video]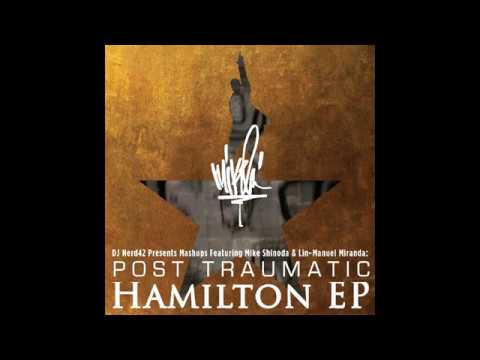 Check out the previous DJ Nerd42 albums:
"Sound of the Inaudible" ft Thrice & KJ-52 (2016)
https://djnerd42.bandcamp.com/album/sound-of-the-inaudible
"Linkin Things" (2015)
https://djnerd42.bandcamp.com/album/linkin-things
"White Materia: Final Fantasy VII Mashups" (2013)
http://megaranmusic.com/album/white-materia-final-fantasy-vii-mashups
"Deltron 3742" (2012)
http://djnerd42.blogspot.com/2011/09/deltron-3742.html
"It's Pronounced Forty-Two!" (2010)
http://djnerd42.blogspot.com/2010/04/its-pronounced-forty-two-bonus-track.html
Site:
http://nerd42.net/
Blog:
http://djnerd42.blogspot.com/
BandCamp:
http://djnerd42.bandcamp.com/
YouTube:
DJ Nerd42's YouTube
Facebook:
https://www.facebook.com/djNerd42
Twitter:
https://twitter.com/nerd4242